Formentera markets
The markets of Formentera are one of the most important attractions to visit. They are not just a pastime for the many tourists, but are the hippie heritage of a time not so long ago, but now long gone.
It is already a well-known fact that, in the mid-1960s, a peaceful cultural revolution took place on the island: many young people came from all over the world in search of peace and freedom and the wild Formentera of the time allowed this and much more! It was in this innovative context that the island's population began to have tangible contact with different realities and creative stimulus was a natural consequence.
What we can now admire at the various markets are, in fact, works of a different nature, made exclusively by hand. All the artists personally take care of setting up their stalls and are often very willing to tell anyone who asks about their work.
Here are the days, places and times to plan your shopping!
La Mola market
Among the markets of Formentera, this is by far the largest and most famous of the island. It takes place every Wednesday and Sunday, from late afternoon until late evening and has always attracted many tourists. Its beauty lies not only in the wonderful works on display, but also in the atmosphere that surrounds it.
It is located in a small square where a band plays punctually: it is here that, listening to music and dancing, time seems to have stopped in the legendary 1960s.
What to buy at the flea market in La Mola? Everything! You will find jewellery, souvenirs, clothing and much more!
Where: in the square of El Pilar de La Mola
When: Wednesday and Sunday from 4:30 p.m. to 10:30 p.m.
Es Pujols market
On the promenade of Es Pujols, one of the most popular summer markets takes place every evening. Numerous stalls, all decorated with coloured lights, offer souvenirs of all kinds.
Among the various artisans, the island's most iconic artist deserves a special mention: Juan. This diminutive-looking, permanently tanned man seems to be one of the last hippies present in Formentera. His yellow stall is open from morning till night!
And what does the mythical Juan offer, you may ask? Bracelets, necklaces, anklets, rings, all rigorously made by him with a myriad of coloured beads!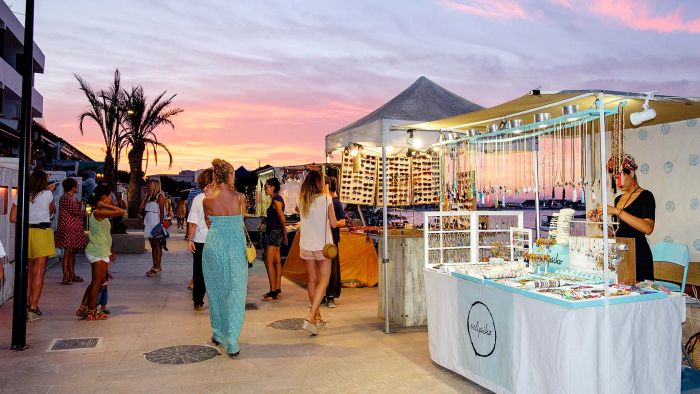 Where: on the promenade of Es Pujols
When: every night from 7 p.m. to midnight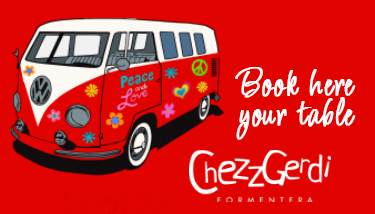 Sant Ferran market
This night market takes place in the small village of Sant Ferran and is perhaps one of the most interesting, as it involves some of the island's most important artists.
You will mainly see quality craftsmanship: if you love the island and want to take home a souvenir, a work purchased in one of these small workshops is certainly the best choice.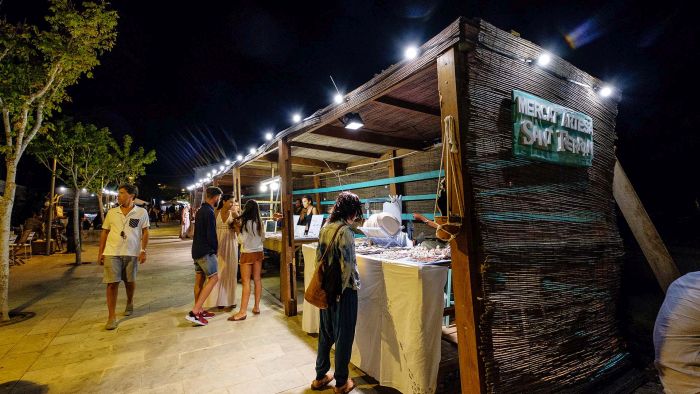 Where: in the pedestrian area of Sant Ferran
When: Monday, Tuesday, Thursday, Friday and Saturday from 7 p.m. to midnight
Sant Francesc market
The Sant Francesc daytime market is a good opportunity to go shopping, perhaps before heading to the beach. It takes place in the small streets adjacent to the square and, between a coffee and a chat, it will be impossible not to look at the many stalls present. You will find mainly jewellery and some clothing.
Where: in the pedestrian area of Sant Francesc
When: every day except Sunday, from 10 a.m. to 2 p.m.
La Savina market
If you're dining in one of the many restaurants in the harbour area one evening, don't miss the flea market. Set up along the pedestrian promenade, it is just a few steps away from the luxury yachts moored there. The artisans present sell both clothing and accessories.
Where: on the waterfront at the port of La Savina
When: every day from 11 a.m. to midnight
Hoping to have done something pleasant to illustrate all the markets of Formentera, we look forward to seeing you soon here on the island.