How to get around Formentera: information, costs and tips
Few paved roads, no traffic lights and many dirt tracks characterise Formentera. Its wild nature, in fact, has been specially protected by the Consell Insular, which, by avoiding excessive cementification of the soil, has managed, however, not to affect the usability of the island.
In this sense, there are numerous green routes, designed and classified by degrees of difficulty, established by the same institution. For walking or cycling, they allow you to discover the island in a slow and intimate way.
Therefore, how to get around Formentera is one of the first questions you ask yourself when you arrive on the island. The answer, however, is not so trivial: it is important to take into account the time of year you are going, the number of people who will be travelling with you, the number of trips you plan to make, the place where you will be staying and, of course, your budget.
Getting around on a motorbike
Most people who have been to Formentera will tell you that renting a scooter is the best solution for visiting the island far and wide. This is only true if you meet certain requirements.
First of all, age and driving licence: you must be over 18 years old and hold a B/AM licence for 50 and 110 cc motorbikes, while for 125 cc motorbikes you must have held a B licence for at least three years. The AM licence, which is issued to those who have reached the age of 15 after passing a test, is valid for driving 50 cc scooters only in the country where it is issued and not in the whole of Europe.
Another consideration is the ability to ride a motorcycle on dirt roads… it may seem trivial, but the handling of the vehicle changes considerably on an unpaved road.
Another important point has to do with the period in which you visit the island. In the low season, for example, due to the low number of tourists and the low temperatures, you may want to consider renting a car. Often people choose the motorbike because of the difficulty of finding a suitable parking space for the car… but we assure you that this does not happen during the months when the island is less crowded. In addition, the mild but variable temperatures will force you to always wear a sweatshirt or jacket in the evenings (this can also occur in the warmer months of July and August).
As for more practical matters, such as where, how and when to rent a scooter, we can tell you that by booking online you will find more advantageous rates than those offered locally. Prices vary according to the time of year and vehicle availability decreases in high season, so it is advisable to book in advance, especially if you want to choose from a wide range of models and engine sizes: for example, the 125cc motorcycles with trunk (convenient to leave a second helmet when going to the beach) are the most popular.
To book a scooter you will need a valid ID and a credit card. Make sure the data-cfasync="false" data-cfasync="false" type of insurance included in the price (you can always pay a daily extra on the spot to cancel the excess) and check the quality of the helmets you will be provided with – safety first!
I also remind you that children under 130 cm in height are not allowed on the motorbike.
Here are a few quick tips to always keep in mind:
– check the opening hours of the rental office, especially for the return of the vehicle on the day of departure; it would be unpleasant to discover at the last minute that it is closed for the lunch break.
– always park in the spaces marked with white lines to avoid heavy fines. On unpaved roads and dirt parking lots, try to position your vehicle so that it does not obstruct other vehicles.
Hiring a scooter is the best option for those who want to explore the island caressed by the wind and move easily from one beach to another. At night, caution is required due to poor road lighting.
Getting around by car
Renting a car is the best choice if you are a family or a group of people who are not used to driving a motorbike on dirt roads. Definitely more comfortable, but perhaps less convenient in the months of July and August, it is still a very popular solution on the island.
When renting a car, the advice is always to do some research online to find affordable rates. Booking in advance will allow you to have a wide choice of the model you want, but above all keep in mind that in high season, if you don't move in time, you may not find cars available. In fact, cars are present in much smaller numbers than motorbikes.
The rental price varies depending on the model you choose and the time of year you stay in Formentera: the cheapest car is the Fiat Panda, but there are cars like the Jeep Wrangler or the Mehari that are much more spectacular.
Getting around Formentera by car is easy, as, due to the small size of the island, there are not many roads. However, you should always pay attention to the car parks: there are paid ones marked with blue lines (most of them); free ones marked with white lines; yellow ones for loading and unloading; and, finally, car parks marked with green lines that are for residents only (and they are only found in the centre of La Savina).
To pay for parking on the blue lines, you need to go to the parking meter, enter your vehicle registration number and insert coins for the set duration. You can also download the Flowbird Parking app on your smartphone, which allows you to pay by credit card.
There are also parking spaces marked with the number 15: they indicate that you can park your car free of charge for 15 minutes, always after showing the ticket printed by the parking meter or the virtual one that arrives on your mobile phone if you use the app. However, this service can only be used once a day.
Finally, you will also find dirt areas where you can park your car free of charge. In this case there are no precise rules but it is good practice to rely on common sense: do not block other vehicles with your car and do not obstruct the path of pedestrians.
Renting a Mehari in Formentera
Undisputed symbol of the island and synonymous with freedom, the legendary Citroën Mehari is the beach car for those who choose to experience the island in true hippy chic style. With its carefree design, a Mehari will give your holiday that extra touch that will make it memorable.
Renting a Mehari is not that simple, as there are very few of them on the island: here you have to plan ahead and then book it early. As a guideline, the daily price is around €100, but varies according to the period and number of days rented.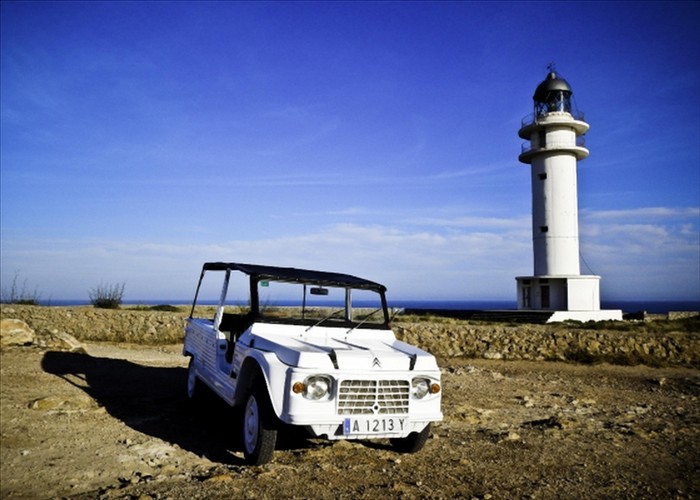 Being a car with almost no bodywork it is certainly not comfortable on rainy or very windy days and you can't leave anything of value inside as there is no way to close it completely.
If you are a person who does not need any particular comfort, this car will be a unique and original companion for your holiday in Formentera.
Getting around by bicycle
Renting a bicycle is the most ecological and respectful option you can do on the island of Formentera. There are no less than 32 green routes that you can travel in total autonomy and away from the busiest roads. In fact, these are paths, old roads, which connected the different points of the island when cars were not yet so widespread.
Divided by degree of difficulty, such as the possible slope or the distance from one point to another, they allow you to explore the island in an authentic and decidedly green way. It is the praise of slowness: the possibility of savouring the smells and stopping to enjoy the new landscapes. The bicycle is the ideal means of transport for those who want to get in touch with the island's genius loci.
There are bicycles for all ages and even those equipped with a child seat. It is not uncommon for families to opt for this mode of transport, perhaps not for the whole stay on the island but for a day or two. Admiring vineyards, windmills and fields where placid goats graze is what a pleasant bike ride offers.
The bicycle is also the only vehicle that can enter the beaches of Ses Illetes and Llevant free of charge. In fact, there is no toll, unlike those who go by car or motorbike (quads are not allowed).
The only drawback of this means of transport is travelling at night: given the poor lighting of the streets at night, it is better to take a taxi. As for parking, there are not many bike racks. Leaving them in places where they won't get in the way is a common sense option that we ask you to appeal to every time you stop somewhere.
Finally, for those who don't like to travel several kilometres exploring the island using only the strength of their legs, electric bicycles come to the rescue. They are very popular and comparable to the comfort of a scooter. The prices for renting a bike, whether electric or traditional, vary according to the season, but are never too high.
Cycling is therefore an excellent way to save money, keep fit and respect the island's nature.
Getting around by taxi
Getting around Formentera exclusively by taxi can be an option for people travelling in a group or for families with young children. Freed from the idea of renting and parking, a carefree holiday awaits those who opt for this vehicle.
However, it is also the case that it is necessary to take it on the day of arrival to reach the accommodation and on the day of departure to go to the port. In high season, taxi service is available 24 hours a day, 7 days a week.
There are three main taxi ranks on the island: one in the port of La Savina (you will see it as soon as you get off the ferry), one in Es Pujols, near the island's information centre, and the other in Sant Francesc, near the La Mukkeria ice-cream parlour.
Taxis in Formentera do not have a taximeter but a table, held by the driver, which provides the fixed cost of each journey.
As a guide we can tell you that from the port of La Savina to Es Pujols the cost is around 15€ but, if you want to be sure of the cost of your journey, always ask the taxi driver before you get in.
In summer, if you call a taxi from 15:00 on Saturday to 7:00 hours on Monday, you will pay a special weekend rate, while there is a night rate from 21:00 to 7:00 each day.
There are 25 taxis across the island (of which only one is equipped to transport disabled people) but, given the high demand for this service in summer, 8 are added in high season to facilitate the flow of tourists. Especially if you're travelling in August, be prepared for long waiting times.
The Radio Taxi number is +34 971 32 23 23 42.
Choosing not to pollute: electric cars and scooters
Electric cars (such as the Citroen E-Mehari and the Smart Fortwo Cabrio) and "green" scooters, such as the Askoll 125 cc, are becoming increasingly popular on the island.
Renting a non-polluting vehicle certainly requires a few more precautions than a traditional car or motorbike. For example, find out in advance where the different charging points are located on the island and take into account the battery life.
However, these aesthetically less attractive vehicles allow you to experience the island in a different way. They do not make the same noise as a car or moped and do not reach high speeds. You will appreciate the scenery around you more and make a nice gesture to Mother Nature.
Getting around by bus
Using the regular buses in Formentera, to move between the different beaches and villages, is a somewhat unusual choice but still an option if you want to experience the island with a slow and eco-sustainable approach.
Try this method if you are a patient person who does not disdain to walk a little to get to a specific place. Bus stops, especially those at beaches, are located close to the road, so it is necessary to walk to reach the sea.
There are 5 regular lines that serve the main places on the island. The line known as L1 departs from the port area of La Savina and runs a circular service. It passes through the towns of Sa Roqueta, Es Pujols, Sant Ferran and Sant Francesc before returning to the port.
Line L2 also leaves from the port and goes to the village of El Pilar de la Mola (which is also the highest point on the island). This is the line that takes you, in addition to the aforementioned villages of Sant Ferran and Sant Francesc, to the tourist area of Ca Marí (where there are some great hotels such as the Gecko or the Formentera Playa) and to Es Caló where there are some very good restaurants.
If you are staying at the Riu La Mola hotel, you also make a stop near the hotel (this last stop is also useful for a nice walk to the beautiful beach of Caló Des Mort). The terminus is the village of El Pilar de la Mola, where every Wednesday and Sunday, during the high season, a picturesque hippy market takes place from afternoon to evening.
Line L5 departs from the port and leads to the beautiful beach of Cala Saona, passing through Sant Francesc; line L6, active from June to September, leaves the port and, passing through Es Pujols, arrives in the area of Migjorn. Finally, line L7 connects Migjorn with the wonderful beach of Ses Illetes.
Tickets can be purchased on board and vary in price depending on the route: a short-distance ticket costs 1.80 euros and a long-distance ticket costs 2.55 euros (per person). There are also some types of passes, such as the 12 euro ticket. It is valid for 24 hours from the time it is stamped and allows unlimited use of all buses.
Deciding to travel by bus requires a little organisation and a lot of patience. Although the number of journeys increases during the high season, waiting times for buses can be long. Find out the times and locations of bus stops in advance to avoid unpleasant waits in the sun.
Unfortunately, at night, buses stop running at around 10 p.m. and resume at around 7 a.m., depending on the line.
As you may have guessed, there are several ways of getting around Formentera. Plan this aspect of your holiday in advance and you will enjoy the island in the way that suits you best.
If you don't choose the electric alternatives, there are two petrol stations on the island: one between Sant Ferran and Sant Francesc and another on the road leading to the port of La Savina coming from Sant Francesc.
A curiosity about mobility that often goes unnoticed… there are no traffic lights in Formentera!